Traci and I sort of love Nina Garcia's book, The One Hundred, which details the 100 closet essentials – according to Nina Garcia of course! We think it's both aspirational and practical.  Plus, it's a fun, quick fashion read.  And most of the stuff in the book really is a closet essential – items that often make it onto "must have" or "10 items" lists on blogs and in fashion magazines.
In that spirit, and to help our fellow talls out, we decided to introduce a new series – Closet Classics – with tall-size options of our own fashion must haves.  And what better way to start it off than with the Little Black Dress – THE quintessential closet classic.
My favorite right now is this amazing J.CREW LBD with an asymmetrical neckline. I think it could be worn with or without a necklace (longer necklace only) or with a fun skinny belt for dressing up.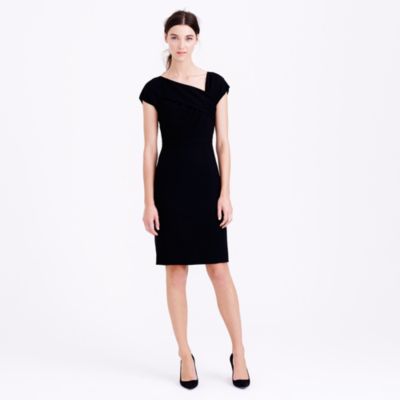 I found a few other great tall LBDs.  What's great about a LBD is that there are so many different types with unique details, and yet they all manage to look sophisticated and chic.